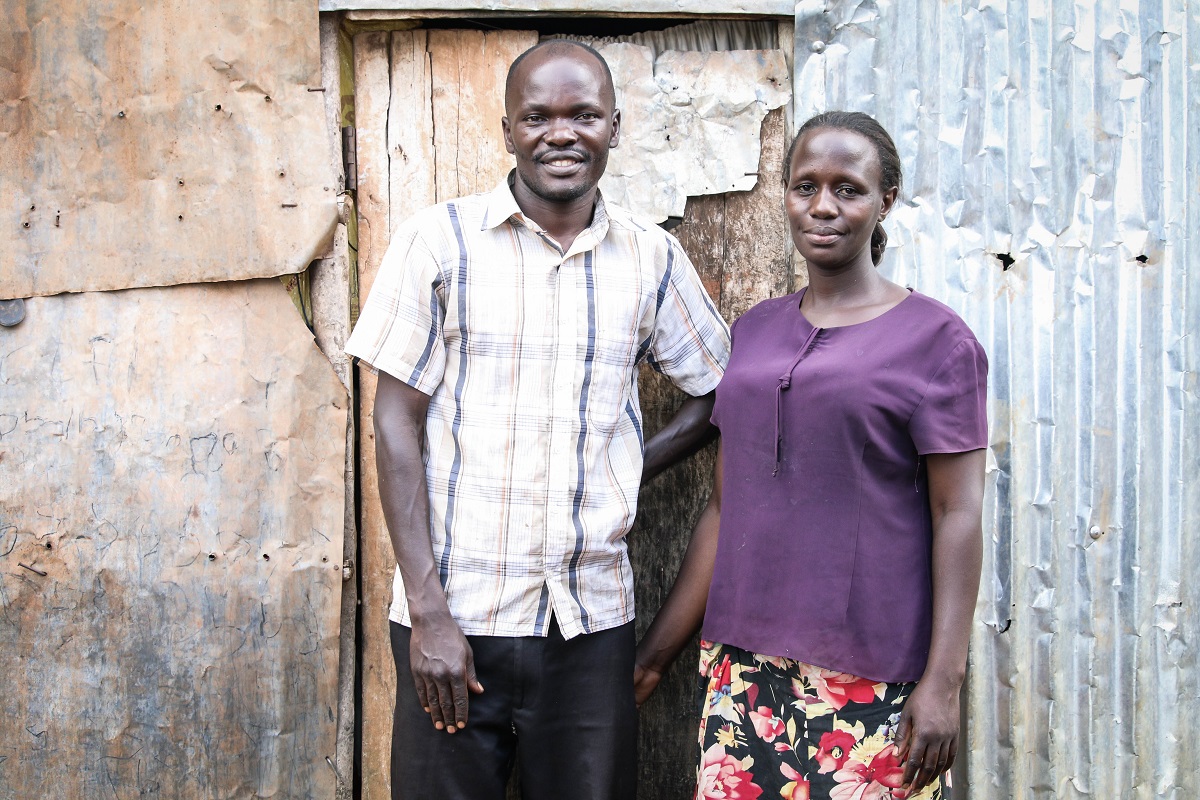 ABIGAIL Ministries Visits Mityana
In Mityana, Abigail encounters a family of Mr. & Mrs. Waliigo pastors in a local church found in Mityana in Kassejjere village with four children. They moved to Mityana in 2013 but they lived a very difficult life, Mr. Waliigo went first before his family but because they were not financially stable Mr. Waliigo slept in a tree because they had no shelter to sleep in and he rolled himself in a tent (Etundubali) for about 2 months then after a night in a tent (Etundubali) he uses it as a shelter for the church.
After a while, Mrs. Waliigo moved in with their children in a Temporary tent made in (Etundubale) , but it was not enough for the family since they increased in number that they would not fit in the shelter so they had to split to a thatched hut kitchen for more space and besides space, the cold nights they had every day being that they had no proper beddings like blankets bedsheets etc. But actually, they still thank God that they never felt sick amidst all these circumstances.
Before
Early the next year around February 2014 a heavy stormy rain washed down their temporary tent house leaving them homeless, everything they had was flooded in water and all that remained was the clothes they had on their bodies; fortunately, they were helped with the children by someone with a shelter to sleep overnight but for the couple, they had to go back to the thatched hut kitchen in which they lit fire all night to make their bodies warm all night so the next day they put up another temporary shelter as their new home which at this time was made of iron sheets all the way out like walls though it came to them as a miracle Mr. Waliigo says "we actually saw its as big step forward since they were able to put up a shelter of iron sheets he continues to say that he always testifies to his congregation that he is the richest man in his area because of having an iron sheet house from top to bottom ".
They explain how miraculously they got the iron sheets that built their house plus the church and that they had to organize a thanksgiving service for this particular miracle because they described their church as more beautiful than their home and most times the rain hinders their congregation to attend services.
Fortunately, Mrs. Waliigo met Apostle Sarah Bunjo in a preacher's wives' meeting in kakiri that Apostle Sarah Bunjo had organized and she got an opportunity to meet the Apostle in person who during the conference spoke of the objectives of the women's ministry in that she related to it so suitably.
After
Mrs. Waliigo organized a two-day conference and invited Apostle Sarah Bunjo and thank God she was not disappointed by her although they lacked so much, they stayed strong in the lord. she started partnering with Apostle Sarah Bunjo which later on Apostle Sarah Bunjo visited their home and they prepared for them meals and in the process Apostle Sarah Bunjo was touched on how these ministers lived a very poor life as well as the Abigail women that's when Apostle Sarah Bunjo and the entire Abigail community decided to buy her land and construct for them a home.
Just not land they have been a great impact in their lives and also to the pastors' wives' in Mityana like recently the Mitiyana Abigail team dressed the pastor's wives from head to toe and even their husbands were so happy to anticipate in the 2018 Abigail Annual conference.
Below is the full video
You can Partner with us today as raise money to construct a new home for this family by calling us on;
Tel Contact: +256 704 602 836 or email us at info@abigailministries.org
ABIGAIL MINISTRY INTERNATIONAL | A WOMAN OF UNDERSTANDING AND BEAUTY